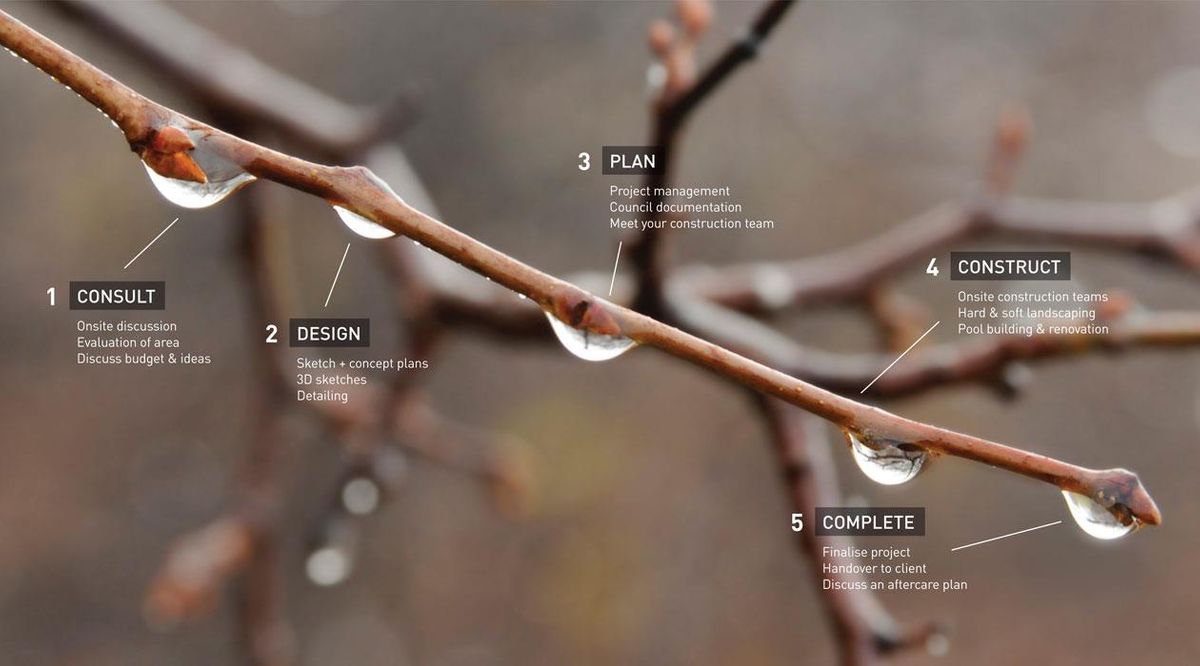 The Process
FROM CONCEPT TO COMPLETION
Our straightforward and fluid process will take you from your initial consultation through to the design, planning, construction and maintenance of your project. All of this is done with mindful attention to detail. Our wealth of in-house knowledge in horticulture, project design, planning, and landscape construction ensures a stress-free experience from conception to completion. Where required, we also draw on a select group of specialized and trusted tradespeople, all chosen for their commitment to upholding the same values we do like providing high-quality, honest workmanship and maintaining site cleanliness.
DESIGN & PLANNING PHASES
design concept / design specifications / development applications / local council approvals / design + construction budget / detailed transparent quotations
HARD FINISHINGS CONSTRUCTION PHASE
lighting / timber decking / stairs / gates / fences / stone / paving / tilling / retaining / concrete / irrigation / drainage / screening
SOFT FINISHINGS CONSTRUCTION PHASE
soil preparation / mulching / planting / sodding / plant relocation / fertilizing / weeding / pest control / pruning / hedging / shaping
1. CONSULT
Our on-site consultation involves a face-to-face discussion with a ProScapes landscape manager. We will listen to your wants, needs, concerns and address site conditions. We will discuss the following if they are relevant to your project, and answer any questions you may have:
Design advice, possibilities, and ideas

Construction advice on structural landscaping design

Renovation on existing pools, patios, and softscape design

Horticultural materials and finishes

Advice on council and engineering matters - requirements specific to your project

Design estimates with a verbal quotation should further landscape design be deemed necessary

Verbal guide of a total project budget specific to your scope of work and ideas discussed
2. DESIGN
The design process works in 3 stages, and your fixed-fee proposal includes the following (if required):
SKETCH PLAN - An initial sketch landscape plan based on the design brief formed at the consultation. The plan shows the proposed layout including key design elements and is accompanied by a total project budget estimate.

PERSPECTIVE SKETCHES (3D) - Four 3D, hand-rendered images are done at either the sketch or concept plan stage depending on your project. These assist in explaining the sketch or concept design ideas.

CONCEPT PLAN - Following any amendments that are required to the initial sketch plan, a final concept plan is produced. The final concept includes suggestions and selections of material, finishes, and plants. It is accompanied by a fixed quotation for construction.
3. PLAN
Once the final concept plan and construction quotation has been approved, the final construction detailing and relevant council application, documentation, and submission will be completed in preparation for construction.
If council approval is required for your project, the fee to complete the application is listed in the fee proposal provided following the initial consultation.
Following approval relevant to your project, your landscape manager will arrange a handover meeting. This is a meeting on-site where your project manager will be introduced. It will serve as an opportunity to discuss and confirm all aspects of the approved scope of works, including a commencement date prior to construction.
4. CONSTRUCT
Throughout construction of your project, your project manager will be the primary contact for any questions or queries you may have.
The project manager's role is to manage the contract administration and keep you informed to ensure that the construction phase meets the design intent. This is also to ensure that all of our work is done to the highest quality and standard.
Your design manager will still be involved in your project all the way through to completion.
5. COMPLETION
Upon completion of your project, your project and design manager will arrange a final handover meeting. This is a meeting on-site where all aspects of your project and its construction will be discussed. It is an opportunity to provide feedback to address any further queries you may have. Your design manager will also discuss an aftercare plan and arrange a complimentary maintenance proposal, tailor made by our qualified and experienced maintenance division, ensuring that your growing investment is nurtured to full maturity.
Ready to get started? Contact ProScapes today to learn more or to schedule an initial consultation!